Homeworks Energy Halloween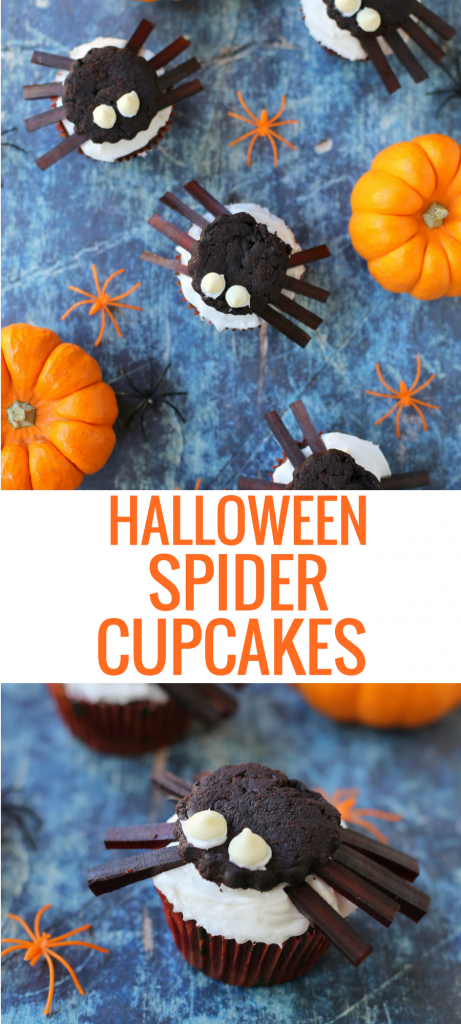 If you're looking to make a festive sweet treat to bring to a Halloween party, these spider cupcakes are an easy way to add a little fun into the spooky holiday! Round up the little ones for a little decorating fun as you create sweet and crunchy spider cupcakes for everyone to enjoy. Thank you to Pure Organic for sponsoring this post!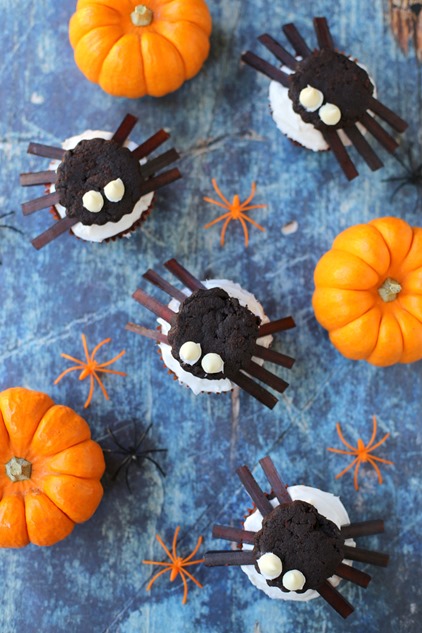 Growing up, I LOVED celebrating Halloween at school. As an elementary school student, we had a half-day of "real" school in the morning and the second half of the school day was dedicated to celebrating Halloween. At lunchtime, we'd all immediately forget anything we learned in the morning, change into our costumes and likely annoy the heck out of our teachers as we practically burst with excited energy for the rest of the day. We'd line up by classroom, circle the school in our costumes as part of a "costume parade" so our parents could snap a billion pictures and spend the rest of the afternoon running around, giggling with friends and snacking on more than our fair share of Halloween treats.
This will be my first year on the other side of a school's Halloween party and I am SO pumped! Chase's preschool celebrates Halloween with a weekend "Trunk or Treat" party and picturing a bunch of toddlers and little ones dressed up in their Halloween costumes is almost too cute to handle. A quick search of Pinterest for Halloween-themed treats to bring to the party left me feeling overwhelmed and inadequate until I clicked away and started brainstorming easier ideas. I saw a few spider-themed desserts that looked more manageable and set off to the grocery store to round up a few things to make a semi-homemade Halloween sweet treat I'm excited to share with you today.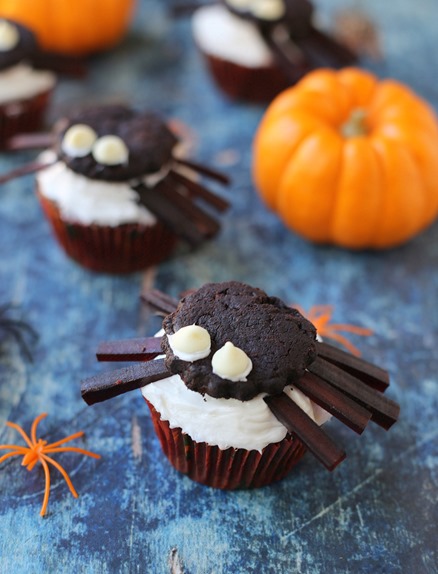 Now here's the real beauty of these cupcakes: They can be as labor-intensive or as simple as you want. Heck yes! I opted to make them with jarred icing and a box cake mix (I love Simple Mills mixes for their unprocessed ingredients but they are made with almond flour, so keep that in mind if your school forbids nuts) but you can absolutely make your own cupcakes from scratch if you prefer. Or you can make this Halloween treat even easier and opt for store-bought cupcakes!
The real fun comes in decorating the cupcakes, especially if you rope your toddler in and ask them to "help" you. (Heavy emphasis on the quotation marks around the word "help.") Chase loves serving as my sous-chef in the kitchen these days, so once I had the cupcakes baked, iced and ready to decorate, I pulled up his kitchen stand and we made these spider cupcakes together using chocolate shortbread cookies (I used Rustic Bakery cookies and found them at The Fresh Market), white chocolate chips and Pure Organic Layered Fruit Bars.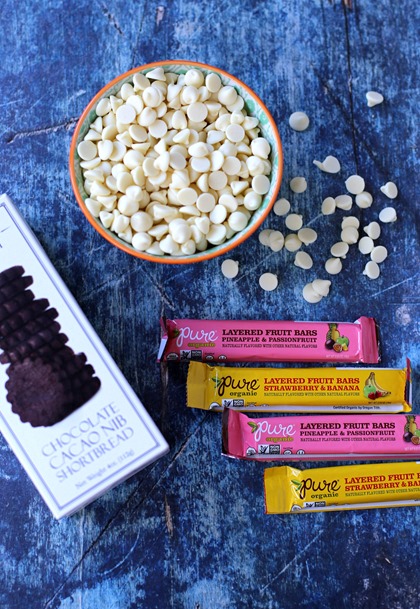 The cookies served as the spider's body and I simply placed one on top of an iced cupcake. I then carefully dipped the bottom of two white chocolate chips into the remaining icing and placed them on top of the cookie for the spider's eyes. Using a sharp knife, I spilt the Pure Organic Layered Fruit Bars in half and cut out tiny spider legs from the fruity snack.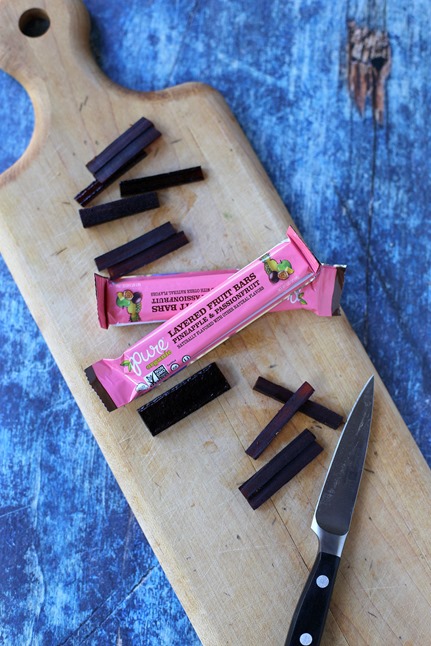 I've been keeping a couple of the Pure Organic Layered Fruit Bars and Pure Organic Fruit & Veggie Strips in my purse for months now because Chase absolutely adores them and this sweet snack is made without anything artificial. One of the Pure Organic Layered Fruit Bars has 2/3 of a serving of fruit and the texture of the bars worked perfectly for the spider legs since they're dense enough to stick out of the cupcake without becoming too floppy, but still soft enough for little ones to bite into and enjoy.
We had such a fun time making these cupcakes together… and an even better time eating them!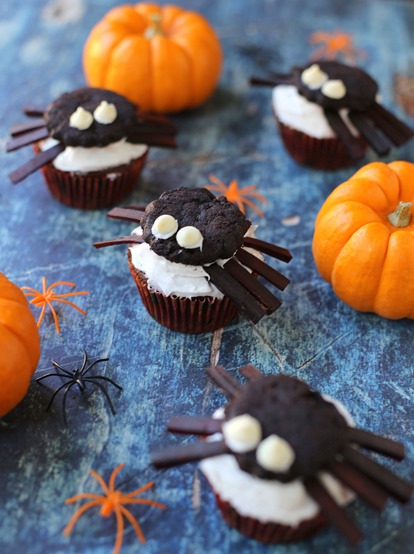 Halloween Spider Cupcakes
Halloween Spider Cupcakes
Recipe type: Dessert, cupcakes, holiday
Total time:
If you're looking to make a festive sweet treat to bring to a Halloween party, these spider cupcakes are an easy way to add a little fun into the spooky holiday!
12 frosted chocolate cupcakes, plus approximately 2 tablespoons of additional icing
12 chocolate cookies
24 white chocolate chips
12 Pure Organic Layered Fruit Bars
Place one chocolate cookie on top of each frosted cupcake, lightly pressing the cookie into the icing so it will remain in place.
Carefully dip the bottom of two white chocolate chips into the remaining icing and place on top and toward the front of the cookie to serve as the spider's eyes.
Using a sharp knife, carefully cut the Pure Organic Layered Fruit Bars in half and slice out thin spider legs.
Tuck the "legs" underneath the cookie to keep them in place.
Enjoy!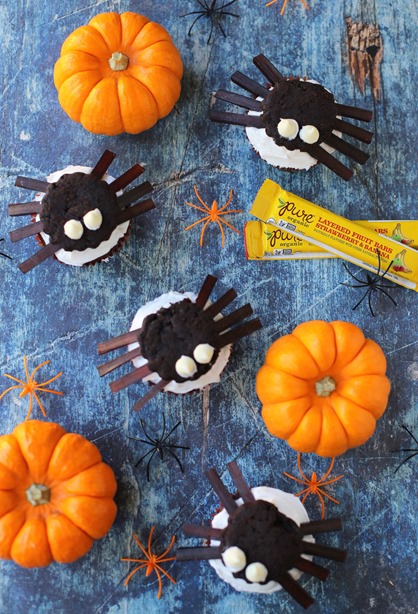 Oh, and in case you were thinking I have a cupcake-decorating prodigy on my hands, Chase's decorated cupcake didn't make the cut for these pictures, mainly because he ate his immediately… and also because it looked like a smeared polka-dot spider since he was a little heavy-handed with the white chocolate chips. At least we had fun, right!?
Filed Under: Holiday Recipes, RecipesTagged With: Halloween, holiday desserts, holiday recipe, holiday recipes
Be sure to follow PBFingers on Instagram and Facebook!
I'd love to connect with you! I am always so grateful when you let me know you tried one of my recipes or workouts and tag me in your photos or updates. Thank you so much!!!
Mass Save is an initiative sponsored by Massachusetts' natural gas and electric utilities and energy efficiency service providers, including The Berkshire Gas Company, Blackstone Gas Company, Cape Light Compact, Columbia Gas of Massachusetts, Eversource, Liberty Utilities, National Grid, and Unitil. The sponsors of Mass Save ® work closely with the Massachusetts Department of Energy Resources to provide a wide range of services, incentives, trainings, and information promoting energy efficiency that help residents and businesses manage energy use and related costs.
As a Participating Home Performance Contractor in the Mass Save® Home Energy Services Program, we are eligible to conduct Home Energy Assessments, install no-cost energy saving items and complete program-eligible weatherization improvements. We'll also provide you with information regarding other program offerings and access to Mass Save® incentives and rebates.