Ad New Orleans After The Deluge Essay
A.D.: New Orleans After the Deluge, my true story of six people who survived Hurricane Katrina, rolls into its tenth chapter. "Something in the Water" shows the Doctor making the rounds at a Bourbon Street bar, Hamid and Mansell wading through the chest-high flood waters to bring drinking water to an elderly neighbor, and Denise & her family arriving at the chaos of the Convention Center. If you're new to A.D., start the serialized webcomic from the very first panel. You can also watch a pretty cool video on the making of A.D.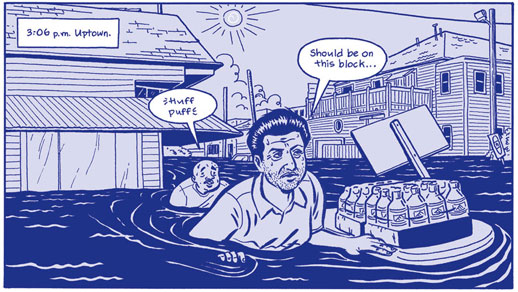 Gambit, the weekly newspaper of New Orleans, recently wrote a cover story about the comic as part of its coverage of the Alternative Media Expo, which I attended as a special guest. It was my first visit to the city since early last year, and I found much to be hopeful about -- as well as many parts of the city still in sad disarray. It was great to catch up with some of the A.D. characters in person, as well as to meet local readers of the comic. I also heard many hurricane stories down there, which reminded me once again how A.D. is just scratching the surface, and how many stories there are yet to be told.
Once again, here"s a link to A.D.'s newest chapter.
A stunning graphic novel that makes plain the undeniable horrors and humanity triggered by Hurricane Katrina in the true stories of six New Orleanians who survived the storm.
A.D. follows each of the six from the hours before Katrina struck to its horrific aftermath. Here is Denise, a sixth-generation New Orleanian who will experience the chaos of the Superdome; the Doctor, whose unscathed French Quarter home becomes a refuge for those not so lucky; Abbas and his friend Mansell, who face the storm from the roof of Abbas's family-run market; Kwame, a pastor's son whose young life will remain wildly unsettled well into the future; and Leo, a comic-book fan, and his girlfriend, Michelle, who will lose everything but each other. We watch as they make the wrenching decision between staying and evacuating. And we see them coping not only with the outcome of their own decisions but also with those made by politicians, police, and others like themselves--decisions that drastically affect their lives, but over which they have no control.
Overwhelming demand has propelled A.D. from its widely-read early Internet installments to this complete hardcover edition. Scheduled for publication on the fourth anniversary of the hurricane, it shines an uncanny light on the devastating truths and human triumphs of New Orleans after the deluge.